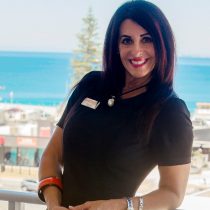 Born in Zimbabwe and lived in Johannesburg, South Africa for 15 years, then moved to Perth in 1998.
I have been involved in numerous businesses in my life, namely, a restaurant, health and fitness centre, promotional company, import export company, gift presentations and commercial catering, a fashion magazine to name a few! I am a Pilates Instructor and Personal Trainer of which I am very active at present.
Real Estate has been a part of my world from my early 20's, renovating, buying, selling and building my own and other peoples properties! It has been a passion of mine throughout my life. The experience I have attained due to the numerous businesses I have owned has added to my incredible achievements in the real estate industry, living a very healthy and rewarding lifestyle which pours over into my positive attitude towards real estate. I have been working in Real Estate for the past 12 years in Perth and have been involved in every aspect possible – commercial, residential, developing, selling and buying, renovating, selling off the plan, both commercial and residential, for myself and clients. I have also run and owned short term holiday apartments over the years, one large project running at the moment.
I have worked in numerous suburbs in Perth often being head hunted. Thoroughly enjoy the challenge of the real estate game and offer my clients a truly rewarding result from start to finish.
Qualified in Interior Design, the knowledge is passed on to help Clients where I can, with presenting their homes in the best possible way, offering 'staging' advise if required! I have extensive knowledge when it comes to developing vacant blocks and have dabbled in that myself.
I truly believe in gaining the most rewards from your properties which are your most valued assets, and have achieved these results time and time again!
Working in an efficient manner, having a plethora of knowledge and contacts, helps me to make selling your property as painless and profitable as possible! Being there from start to finish!
If you need any advice or help with any Real Estate questions, please feel free to contact me.
---
Contact Details
---
Send a Message